Short-term effects of control of the invasive plant (Asclepias syriaca L.): secondary invasion of neophyte plants instead of regeneration of native species.
In this study, we investigated the effects of the common milkweed, a perennial, vegetatively well-spreading invasive plant species from North America, on the main soil properties and vegetation composition in a field experiment on abandoned sandy old-fields in Kiskunság. We also studied the effects of mechanical control (cutting) of milkweed on other native and non-native plant species. We found that common milkweed invasion alters the composition of the vegetation, but had no effect on the basic properties of the soil. Short-term cutting (three years) decreased the cover of common milkweed, but native plants did not regenerate, and secondary invasion by other non-native plants occurred. This suggests that more time or additional treatments are needed for the native plants to regenerate after the invasive species has been controlled.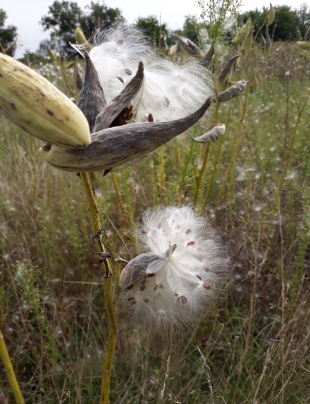 Publication:
Berki, B., Botta‐Dukát, Z., Csákvári, E., Gyalus, A., Halassy, M., Mártonffy, A., Rédei, T. & Csecserits, A. Short-term effects of the control of the invasive plant Asclepias syriaca: secondary invasion of other neophytes instead of the recovery of native species, Applied Vegetation Science, e12707.
This research was supported by the National Talent Programme of Hungary and the Prime Minister's Office (NTP-NFTÖ-21-B-0288), and by the National Laboratory for Health Security (RRF-2.3.1-21-2022-00006), Centre for Ecological Research, Budapest, Hungary.